This is one of my all time favorite recipes. Delicious seafood in a spicy tomato sauce with grilled bread that has been rubbed lightly with raw garlic. You can dip, make a bruschetta like creation, or eat both separately. This dish looks gorgeous and it tastes even better… enjoy!
Ingredients: serves 4

1 baby octopus
1lb rock shrimp
1lb squid
1 1/2 large can of crushed San Marzano tomatoes
1/2 Spanish onion
5 cloves garlic, more or less depending on your taste

1 bunch fresh basil
1/2 tsp white pepper
1 tsp red pepper flakes
1 loaf rustic Italian bread, ciabatta or a baguette will work as well
Extra virgin olive oil, I used Zoe Organic EVOO.
Sea salt and pepper
A medium bodied red wine, such as Chianti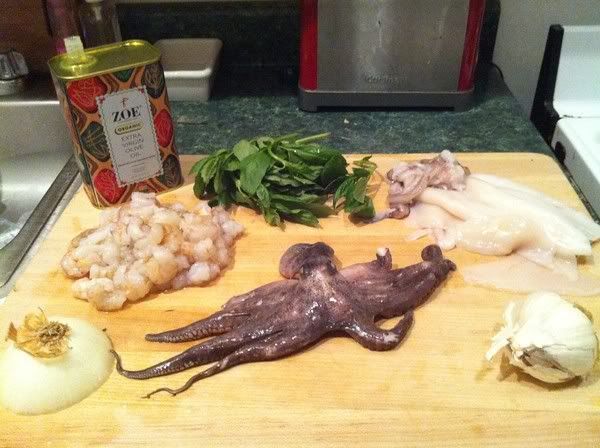 1. First things first! Finely chop your onion and get it into a sauce pan coated in olive oil on medium heat. Let cook for about 2 minutes. Add the can of crushed San Marzano tomatoes to the sauce pan. Fill the can about 1/2 full with water and add to the sauce pan. Add about 1/2tsp of salt and your white pepper. Bring to a simmer. Peel and mince your garlic cloves, reserving one whole clove to be used on the garlic bread. Add the minced garlic to the sauce pan. Roughly chop your basil and add as well. Pour in a splash of wine (about a 3 second pour).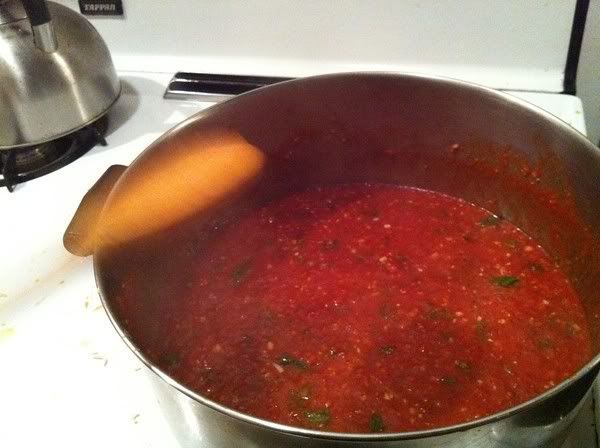 2. Now its time to multi-task a bit! Let the sauce simmer at a slow boil, adjusting the heat if necessary. Be sure to stir often. Wash all of the sea food thoroughly, paying special attention to the insides of the squid. Slice the bodies of the squid horizontally so they form circles. Cut the legs in half to ease eating. Octopus-wise, be sure to remove the hard, shell like mouth. Then cut the legs into 1-1.5 in pieces cut the head horizontally like the squid. The rock shrimp should be small enough that they don't need to be cut down. If you believe that they need to be smaller, by all means, cut to a size that works for you!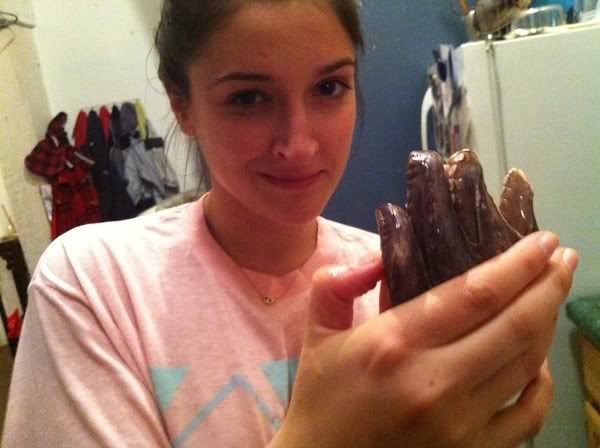 3. Since all three types of seafood have different cook times you will have to stagger their entry into the sauce.  Allow the sauce to simmer for about 20 more minutes before you begin to add the seafood, splashing in more wine, dashing more salt and pepper to taste. If you have a grill start heating it now, if you are using a grill pan do the same.
4. First add the octopus, let cook for about 5-7 minutes. Then add the squid. Let cook for an additional 5-7 minutes. Taste and add salt/pepper as needed. Add the rock shrimp and stir. Also, feel free to add your red pepper flakes to your spice preference!
5. The rock shrimp should only take about 2 to cook. Taste one after two minutes to check. If it is tender, turn off the heat and remove the sauce pan from the heat and let rest.
6. Coat your bread slices with olive oil on both sides. Put on grill or the grill pan. Flip when one side has nice grill marks. Repeat on the other side then remove from heat.
7. Once the bread is grilled, lightly rub the sides of each piece with the reserved, peeled garlic clove.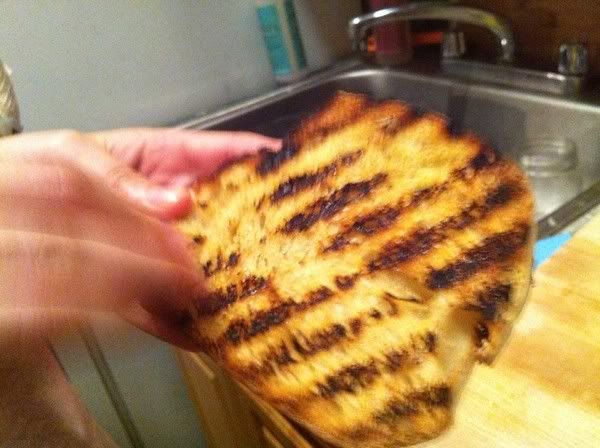 8. Plate the seafood and use the garlic bread for dipping!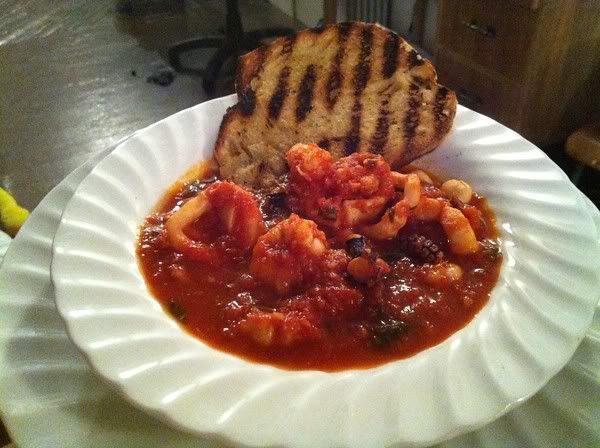 ENJOY!
Posted by Piera courtesy of JustDoEat!